We Are A Top Rated
Landscaping Company for Outdoor Kitchens
Looking to make your outdoor cooking more functional? Outdoor kitchens give your backyard a modern look, while also improving functionality. They have been gaining popularity in the last few years. Not just among homeowners with large properties, either. A well-designed outdoor kitchen can take up surprisingly little space, while providing a lot of utility. However, this is the kind of project you must always carry out with an experienced landscaping company. Working with a professional company like Premium Landscaping guarantees a beautiful outdoor kitchen design for your home.
At Premium Landscaping, we have a large number of successful outdoor kitchen projects under our belt. Sometimes you might be limited on space. Or you might have a very carefully defined atmosphere and are worried that an outdoor kitchen might ruin that. We will take all your concerns in consideration, and will provide you with full reassurance about our approach. You'll know exactly what we're planning to do, and how the project is going to be completed step by step.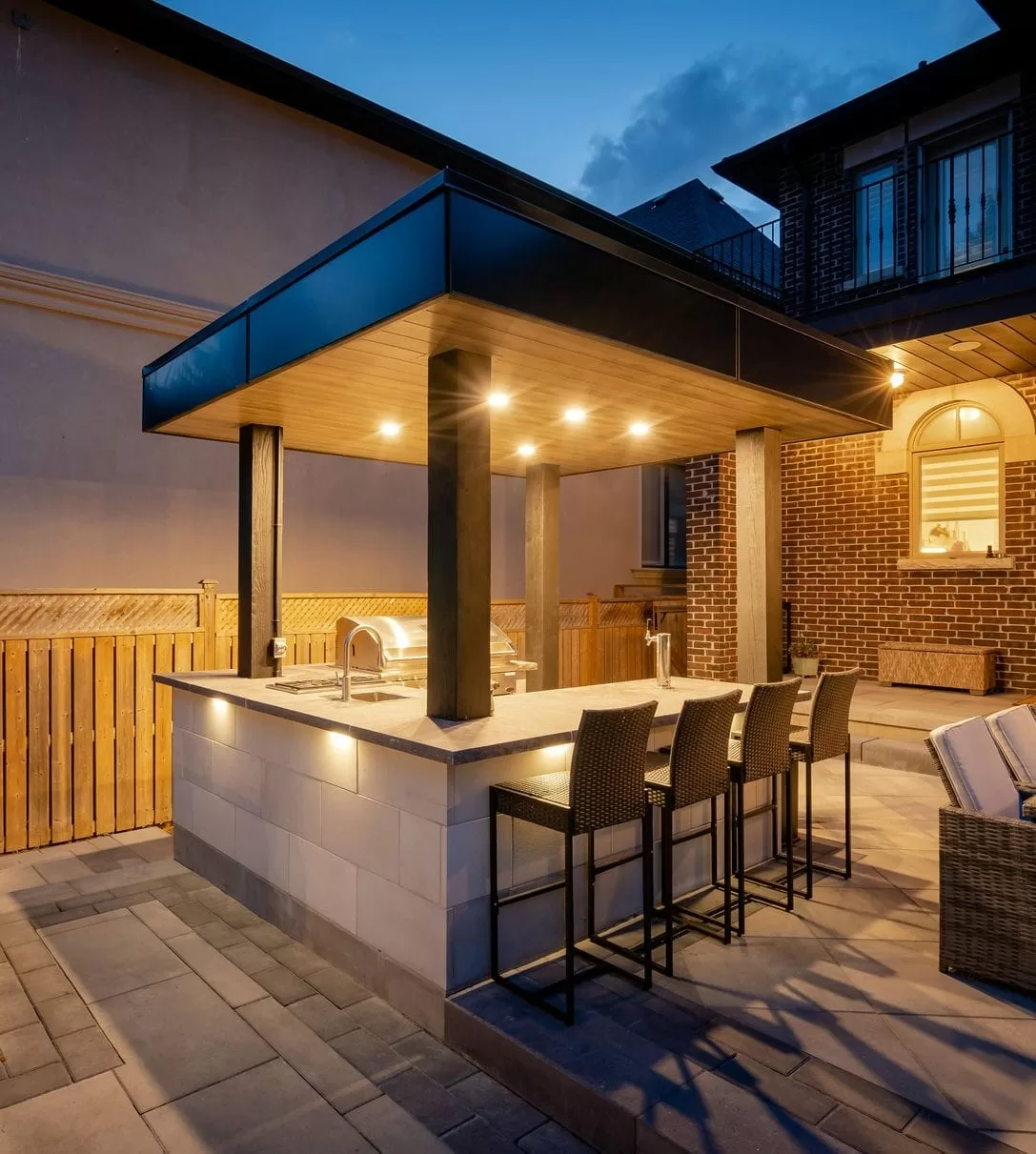 We Have Never Let A Client Down
Our long list of satisfied clients speaks for itself. We've never allowed anything to get in the way of successfully completing a job.  We have the experience necessary to guide you through the whole process. Our skilled team of landscape designers and contactors will carefully assess your property and will draft up a detailed plan for your outdoor kitchen. We will go over this plan with you, and adjust any details that you might have an issue with. Then, we will provide you with a time frame for completion.
Why Add An Outdoor Kitchen To Your Home?
You don't need to understand outdoor kitchens in detail before contacting us for one. But here are some things that you might want to know about a project like this:
Outdoor kitchens can be fully customized to serve your needs and requirements.
If it's done right, your outdoor kitchen will be relatively low on its maintenance requirements. We will give you a detailed overview of everything you'll need to do to keep it in a good condition.
An outdoor kitchen can be covered completely, providing it from extra protection from wind and rain. That's not mandatory however, and we also offer open designs.
You can combine your outdoor kitchen with entertainment devices and furniture to create a complete outdoor lounge.
The kitchen can be designed in a variety of shapes. This allows us to easily adapt it to existing landscaping. Sometimes it can even be split into multiple areas.
Frequently Asked Questions
About OUTDOOR KITCHENS
No, specialized weatherproof appliances are required. Our team can suggest options for appropriate appliances during the design phase of your project.
You don't need a larger backyard for a project like this. Of course, any amount of extra space is always useful. But it's not a strict requirement for a nice outdoor kitchen.
There is some additional maintenance involved when you have an outdoor kitchen. However, it's not significantly more complicated than what you would be used to from your indoor one.
We can create the complete design of your outdoor kitchen from scratch. You just need to have a rough idea of how you want it to look. In addition, you should think about any special features you might be interested in.