We Specialize In
Landscape Design and Build
Every successful landscaping project starts with the initial design. Our landscaping design and build team will shape your personal oasis from the ground up. We offer fully customized design services. That means, whether your require hardscape or softscape services, our landscape designers can create the perfect layout that is customized to your property. We will walk you through every step of the process from A to Z. When working with our landscape designers, you will be able to provide us with a rough idea of your vision, and our team will bring it to life. At Premium Landscapes, our experts can handle the initial design of your landscape, as well as the actual implementation.
When working with Premium Landscapes, you'll find that we take extra care in the small details. Our designs are created to work flawlessly with each individual property, maximizing all aspects to their fullest potential. Whether you need an inground pool, patio, walkway or cabana- our landscape design and build team will create a design that's perfect just for you.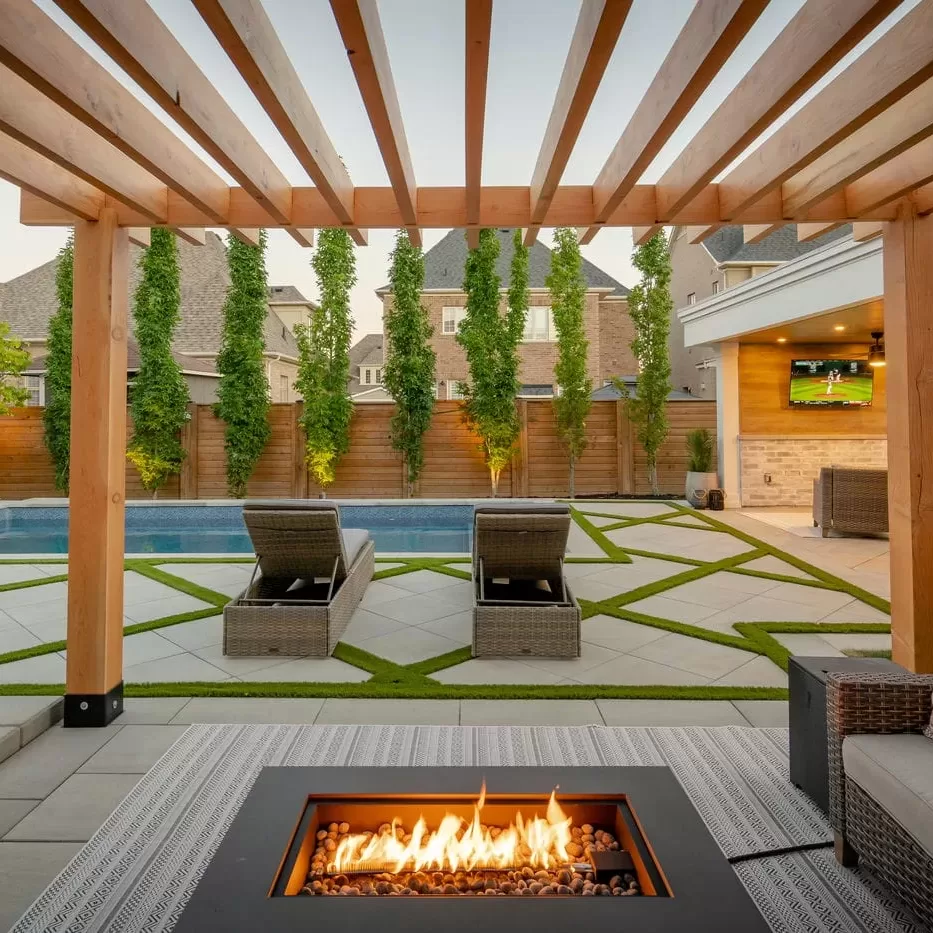 We Have a Long Successful Track Record
We pride ourselves with our long list of successful landscape design and build projects. With our heart on our sleeves, we are committed to providing an exceptional landscaping experience for our customers. Part of what makes this process so easy is our experienced team of landscape professionals. We ask our clients to compose a wish list that outlines their needs and wants, along with any inspirational photos they may have to share with our design team. This ensures that our clients are fully satisfied with the outcome of their landscaping design.
What Landscaping Design and Build Services Do We Offer?
When it comes to landscape design and build services, we have you covered from start to finish. Our company specializes in both hardscaping and softscaping design. We have experienced designers under our roof that are capable of creating stunning works from scratch. Need something adapted to your existing landscaping? That's not a problem either. We will ensure that our work matches your current setup as best as possible. Here is a summary of the services that we offer:
Modern landscape designs that match all current trends.
1 on 1 design sessions with our landscape architects.
2D Hardscape/Softscape plans for a two dimensional layout of your property.
3D Rendering, allowing you to accurately visualize your property before construction.
Hardscaping, to define the "rough edges" of your backyard. This includes walkways, patios, structures like cabanas and pergolas, swimming pools, and more.
Softscaping, to provide you with that soothing touch of green.
So what are you waiting for? Contact our team today and book a 1 on 1 session with one of our landscape designers. We're here to answer any questions that you might have. If you have an idea of what you're looking for, you can also try our online quote calculator.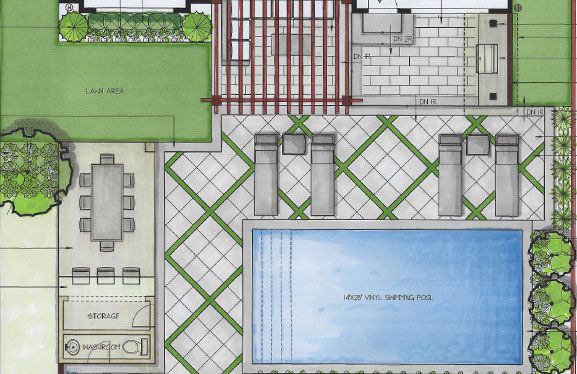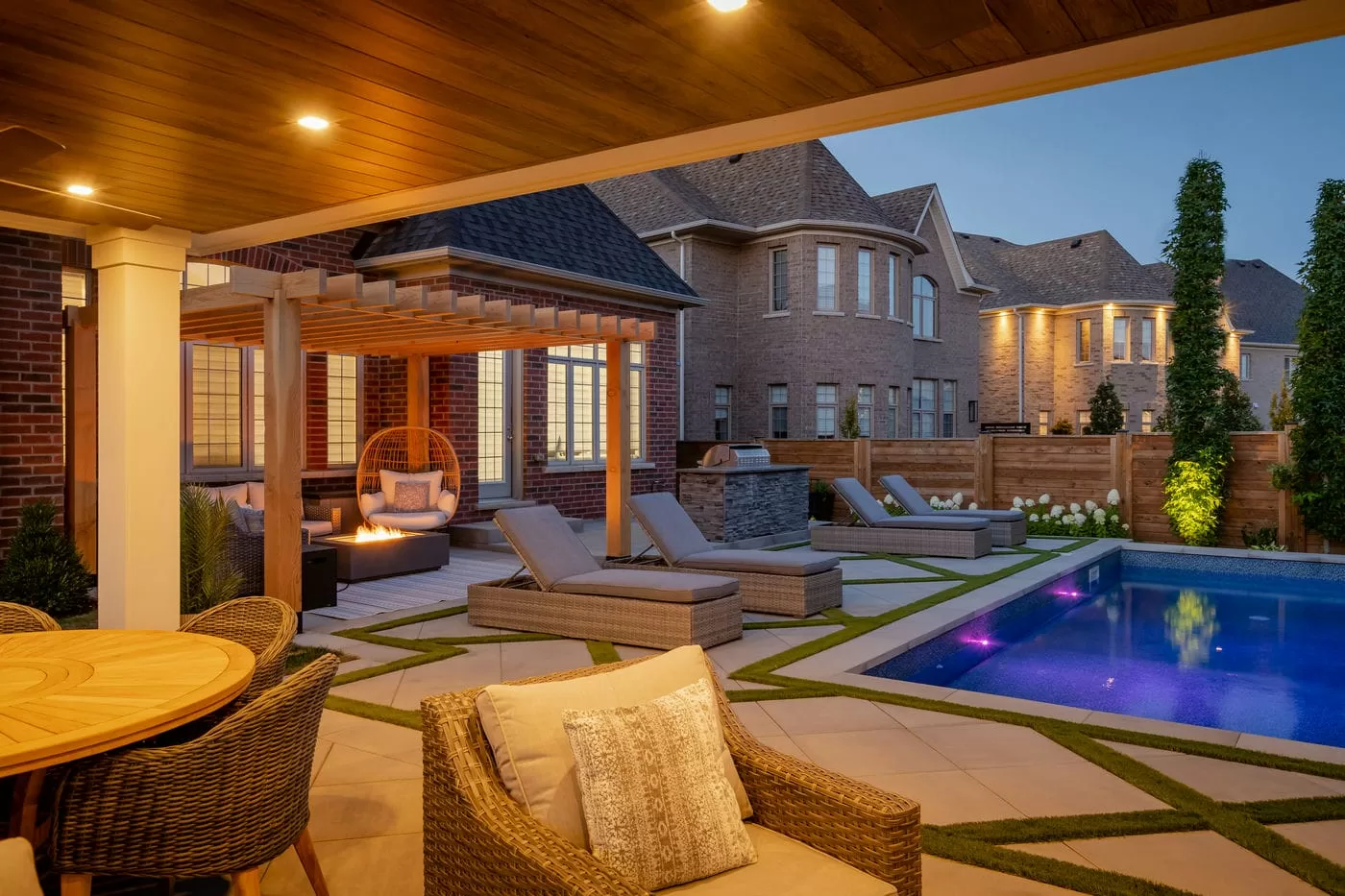 Frequently Asked Questions
About Landscaping Design
Our landscape designers are able to create 2D Plans or 3D Renderings. 2D Plans provide a more simplified preview of your property, usually from a bird's eye view. While 3D Renderings offer the most detailed and accurate visualization with the use of technology.
Yes! Our landscape design and build services cover both hardscaping and softscaping. We have dedicated specialists with extensive experience in both areas. Don't hesitate to contact us about projects that combine the two.
Every project is a little different, and there are many variables at play. The first step is to arrange a consultation with a landscape designer. At that point, we will be able to give you a more accurate time frame once we discuss your needs and requirements.
Absolutely, you will have an opportunity to provide our landscape designers with your own ideas or pictures for inspiration. We will provide you with several options that work for your property.