Your Premium Partner for
Cabanas and Pergolas
Looking to spice up your home and create your own personal oasis? Cabanas and pergolas are always a great addition to any professional landscape project. They come in many variants, and it's important to work with the right company to get the job done right.
With a project as specialized as cabanas or pergolas, experience matters a lot. We have designed and built a variety of cabanas, pergolas, gazebos, porch overhangs and more. Ready to create your dream backyard? We will walk you through every step of the way, from design to construction. Contact us today.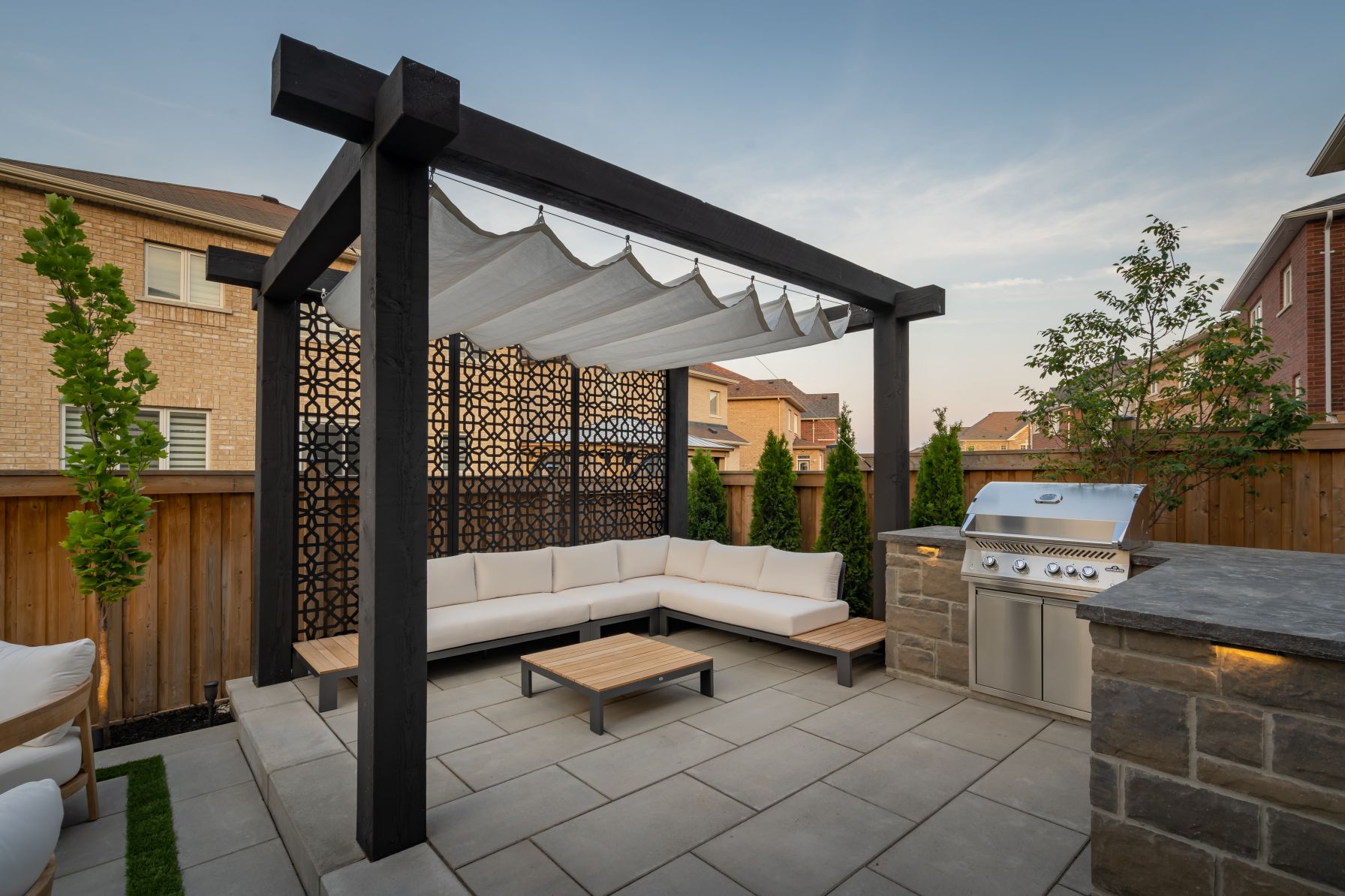 Our Results Speak for Themselves
We have many satisfied customers who would readily attest to the quality of our services. Thanks to our extensive experience in the market, we've been able to complete many projects with cabanas and pergolas. We treat each new project individually, and pay close attention to any special requirements you might have. We bring an unmatched level of quality to the table. All of our customers have walked away very satisfied, and have been enjoying our creations for years. Give our services a try and you'll quickly find out why our list of satisfied customers keeps growing.
THINGS TO KNOW
ABOUT CABANAS AND PERGOLAS
You would commonly find cabanas and pergolas in both traditional and modern backyards of high-end homes. A cabana is a small hut built for a specific purpose, usually for a dining or lounging area. They might also be fixed with additional features, like curtains for extra privacy. This can make for a handy changing room next to a swimming pool, for example.
Cabanas are quite flexible in terms of materials. Classic designs focus mostly on wood and similar materials. However, various types of PVC products are becoming increasingly common these days. They offer some advanced features that wood doesn't bring to the table. That's why they're common in harsher climates.
A pergola, on the other hand, can best be described as an open roof structure providing shade and architectural beauty. To this end, pergolas might extend from an existing building, or they can be completely isolated. It's common to see pergolas lined with various trees and bushes, creating a "green corridor". This can make them a great spot for dining or lounging areas. Additionally they can be used above outdoor kitchens to add a whole new element to the area along with providing the opportunity for overhead light.
Various types of materials can be used to create a pergola, with wood being the most popular. Other than that, stone and brick wrapped pillars are quite popular and add a whole new level of elegance to your structure. Also available in todays day and age are aluminum pergola with automatic or manual louvers providing a new function to pergolas never seen before with traditional wooden structures.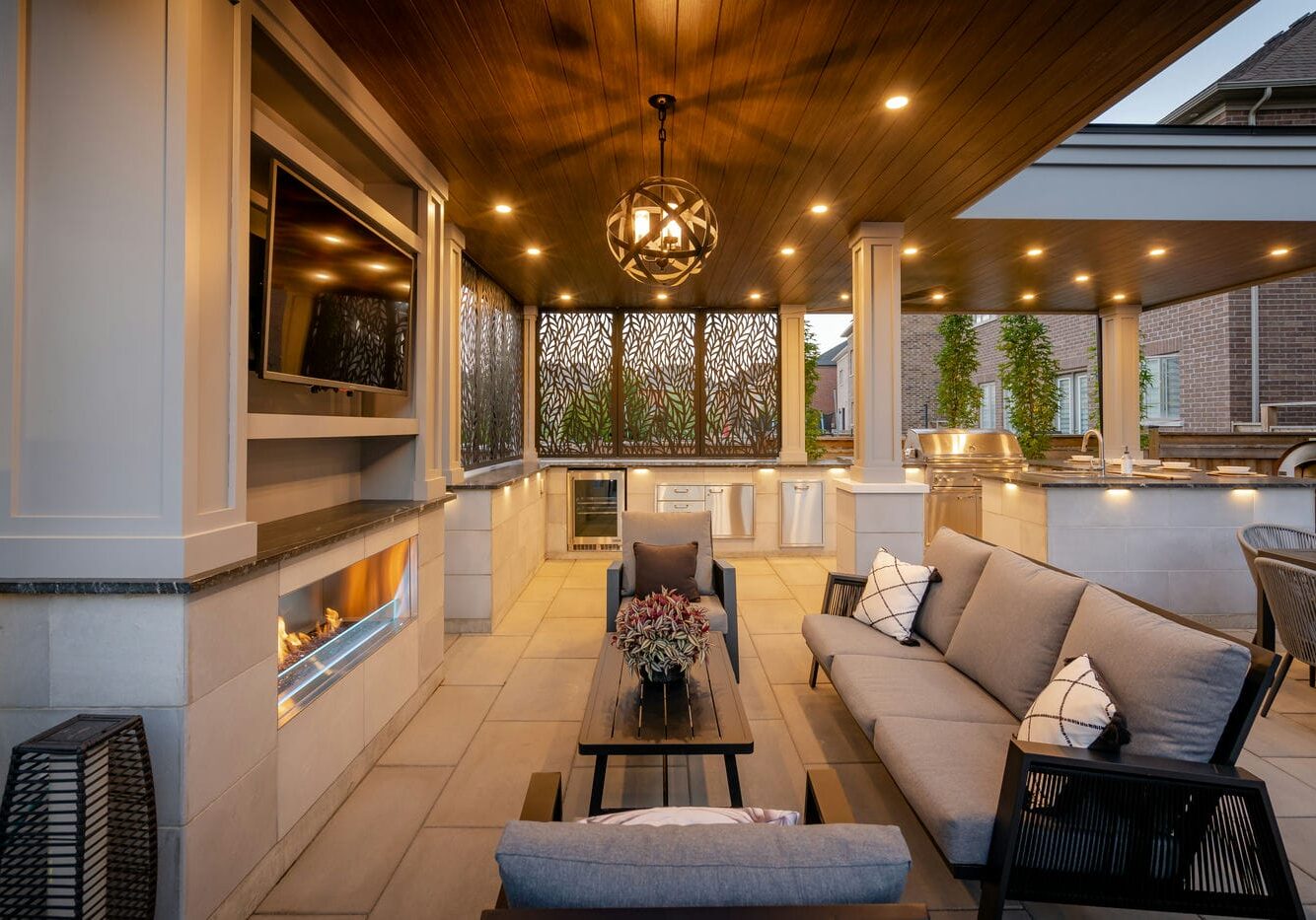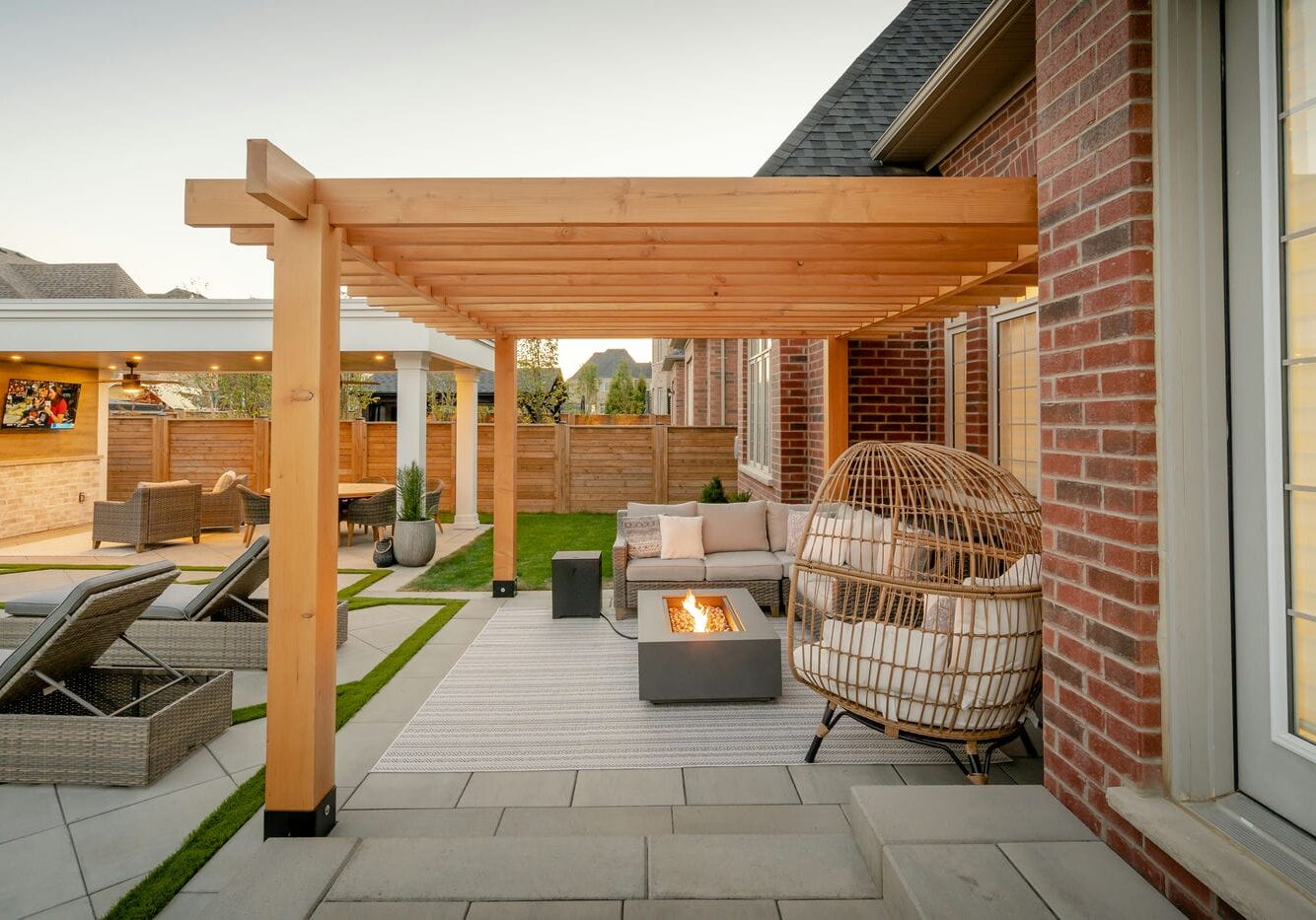 Frequently Asked Questions
About Cabanas & Pergolas
It is hard to say without an in-place assessment. But for the most part, with the correct planning there should be no issue incorporating a cabana or pergola in your properties landscape. We will help you assess your situation and provide you with guidance on what would fit your home best. If you require a custom design, that would be no problem for us.
Not only can we work with existing structures without issues, but we can even incorporate them into new designs. That way, you can enjoy cabanas and pergolas that look like they've always been there. You won't have to worry about changing the aesthetics of your home.
Cabanas and pergolas are generally low-maintenance structures. This can change with some more complex designs. If you're concerned about this aspect of the job, don't hesitate to discuss that with us.
Wood is the most commonly used material for the construction of cabanas and pergolas. There are other viable options, like aluminum, stone and bricks. This decision is largely dependent on the current setup of your home. We will try to work the new structures into your current aesthetics as best as possible.